Heavens Heroes: Unite. free 2 play. Classic RPG Adventure. Monthly Updates free.
A downloadable game for Windows
Heavens Heroes is a work in progress which started close to 4 years ago! I spent so many hours learning how to use RPG Maker VX ACE, writing, designing and more. I came to Itch.io in January this year and even though this is not a full game, and has no ending as of yet, each month, new content is added, story, music, adventures and much more!
Support the project today! At least 6 hours a day is spent on creating new content for Heavens Heroes, this includes after I finish work in real life(10 hour shift 4 days a week)! It's a passion project I really want to take up to a new level to change my future!
Heavens Heroes is a solo, and self funded project. The only scripts used are for side view and battle enhancements. 95% of Heroes Scripts and events are solo made to keep the title as original as possible. I'm open and honest about scripts used and the list of scripts used is on a downloadable document.
=Notice=
Anyone thinking of playing Heavens Heroes should wait for the revamped version coming on the 30th of June. Those who are currently playing, I want to say a great massive thank you for going through the rough stages of Heavens Heroes and playing through some of the many mishaps and mistakes I made. I really would love this project to be a huge success, and create a community of people who want to get involved and feel like part of the project.
In the new version of Heavens Heroes you can pick Male and Fe-male option, with the option to also name your character, this was a massive job. I had to go through each piece of dialogue in the game (and there are hundreds, if not, close to 1000) I also made Heavens Heroes more gender neutral by adding more fe-male NPC's. Equality is the key here :) Re-edited some parts and fixed some dialogue problems in certain parts. It's had a brutal edit and shake up in that department!
I have increased map sizes for many of the current maps in the game, It was a massive worry doing this as I only have 30 days to generate new content, I didn't want to make it even harder on myself, but i have been sick with the flu for the past 6 days and well, didn't have many other things to get done! These maps are looking so much better and nicer to explore and not just pass through for a few seconds.
List of features for Heavens Heroes June 30th.
Upcoming features: Girl Power!, Adventuring, and Card Battles + Story!
1.Totally revamped Intro (5 minutes intro, down from 20 minutes of boring cut scenes)
1.a Additional areas to adventure and explore on Naiyoko Island.
1.b Potion brewing!

2.Every piece of character dialogue edited to make way for your very own character!
2a . Play either Male or Fe-male, dialogue will fit both genders.
2b. NPC's will talk differently depending on your gender. :)
3a. Re-name your character!
4. More gender equality in game. (Fe-Male Monks are on the way!
5. Card Battling Mini-Game (Climb the ranks to be the highest belt!)
6.Leap, climb and so much more!
7. Item name changes, skill name changes and more.
7a. Removed Loot chest cut scene for a more simple item received.
8. Allot of sleep the day after a hard working release, June 30th!
Thanks so much for playing and I look forward to any help or feedback!
Vastly updated and improved maps and more is scheduled for June 30th, I'm planning new features to the game-play.
Card battling against NPC's was something I wanted to add to Heavens Heroes Unite but I found it difficult to get a good idea going! This could be a seriously awesome new feature, and it's in the works and a full demo is working!
Welcome back to the next installment! Download Ready!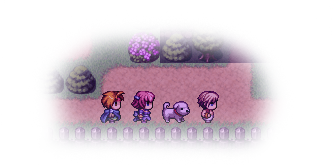 Additional new content includes!
In Chapter 4 You will visit new locations.
Saintia Forest.
A lush and large forest village with a familiar face or two to welcome you back. Explore Side quest caverns that seem to have something quite unusual about them, Will you find a wonder of some sort uncovered by you're curiosity? I hope so!
Meet White Tiger, the new Token Trader on the bloc!
(An NPC named after a player who helped spot many bugs and problems in V.1)
White Tiger has some tokens for you to earn to spend later. But, you'll have to be on your toes as you meet and challenge groups of devious Tentakei's!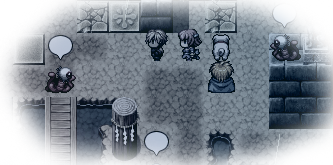 Meet with an old friend and visit the newest town Lanette Settlement, an upcoming coastal village made up of drifters and travelers.
Uncover new puzzles and explore the new areas which have been added.

The Story Continues:
The twists and slides coming up will be greatly unexpected. New chare tors, old faces and some shocking twists. Stay strong!
Every month new content will expand Heavens Heroes story.
Thank you for playing!
The font Nyala is required to view the text properly as it was written, or you can download the Alt Font version which works on Windows 10 without needing to download the font which came with Windows 7.
https://fontzone.net/font-details/nyala
http://www.rpgmakerweb.com/download/additional/run-time-packages
===================================

Welcome to Heavens Heroes. A growing new world.
Latest Trailer.

You're looking a little rough around the edges.. Here, let me help! Who am I? Gosh.. well, this is a dream.. and I am Thangard. I'm one of many great Gods who watch over the planets in our many universes. But that is not important. You have certainly got a long road ahead, Sure, this is all quite strange, and possibly you'll want to turn back.. But.. You can't! The seas have been forgiving though, even if it seems you lost everything and everyone, and you're alone.. It isn't so!
Your path? Well.. A story in your name is written in your words, told in your way. Your actions like a ripple in the sea, may they create waves? or just fade off in to the distance.. I'm afraid only you will know the right choices. With hope you can achieve the greatest of things, hold on to it's might and use it as your weapon!
Be brave in this growing world, and I hope you find the answers you need. There are many you will meet, or maybe you will choose not to. It's your call, but, it doesn't hurt to say hello! I'll see you again, I have much to do. The Gods.. they are always on my case!

About this title.
Heavens Heroes is a first time RPG made by myself a solo Devealoper and writer, An easy entry for first time RPG gamers and those who really enjoy a good story! I have included in-game tutorials and helpful arrow markers. Play a story mode RPG with Action side view battles, many places to explore and secrets to figure out, updates monthly include additional chapters, areas to explore, puzzles and new game-play ideas. It's basically a growing story, with game-play similar to that of an RPG action Adventure, but this one expands and your choices will unravel as time goes on!

Some of the features include:
*Travel to many different places, dungeons and exploration areas.
*A great story that has been worked on tirelessly so everything fits.
*Custom menu system, offers additional options which include:
*Raise a pet, and teach it cool stuff!
*Play mini-games and collect special token prizes.
*Change music and outfits.
*Many hours of game-play that opens up as you play along.

Up to 6 hours game-play, do more then that and I'll be happy :)
| | |
| --- | --- |
| Updated | 16 hours ago |
| Status | In development |
| Platforms | Windows |
| Release date | 51 days ago |
| Author | Alexanda |
| Genre | Role Playing |
| Made with | RPG Maker, Adobe Photoshop |
| Tags | 2D, Action-Adventure, DRM Free, Exploration, Fantasy, free, pets, Singleplayer, Story Rich |
| Average session | A few hours |
| Languages | English |
| Inputs | Keyboard, Xbox controller |
| Accessibility | Subtitles, Configurable controls, Interactive tutorial |
Download
Click download now to get access to the following files:
Heavens Heroes Pack.txt
2 kB
Bugs and Stuff.txt
584 bytes
Heavens Heroes Unitev v1.2May.exe Updated June 2nd
300 MB
Exclusive content
Support this game at or above a special price point to receive something exclusive.
Make an NPC for everyone to see! - Tier 1 reward! 10 Slots available!
Make an NPC!
For the first 10 Donators that make a helpful minimum of $1 or more I will add a custom NPC with a name of your choosing and title. For example. Dennis, The Store Keeper - Sells weapons and items. You're new shop keeper will be bundled in to a future patch, and possibly have a quest or two to boot! Go as wild as you like and I'll do my best to throw in some twists! You'll need message me as soon as you donate with the following information.
Name of NPC:
Role:
What I would like from the NPC:
Traits - Green hair, Orange Beard, Charming, Wears underwear only!
Your NPC will be featured with the last day of months release so everyone knows that your NPC is joining the world!